"Diversity is an asset I believe in"
The VINCI Foundation has been a partner of Kodiko, an association which aims to help refugees into work, since 2017.
Barbara Moulin-Rabel, HR development & diversity project manager at VINCI Energies, is a mentor for Kodiko.
Why did you choose to get involved with Kodiko?
At first, I contributed to several charity projects via the VINCI Solidarity platform, which involved taking care of groups of people by helping them remotely to achieve a specific goal. Building on this experience, I decided to provide one-to-one support over a longer period of time. Because diversity is an asset I believe in, I wanted to help people who have been uprooted from their homes and who are seeking a new life elsewhere. And since I wasn't born in France myself, I thought my experience could be useful. When I received an email proposing the Kodiko project, I didn't hesitate for a moment to get stuck in.
What were your concerns about the programme?
I didn't really have any concerns at the start. Kodiko is a very professional organisation and, right from the outset, we were given training and lots of advice on how to make a good start, for example with practical guides about how to communicate with our mentee.
Furthermore, the refugee/mentor relationship is supported by a mentoring coordinator who acts as the link between the pairing and Kodiko. That support was invaluable – the coordinator's experience is a great help at the beginning.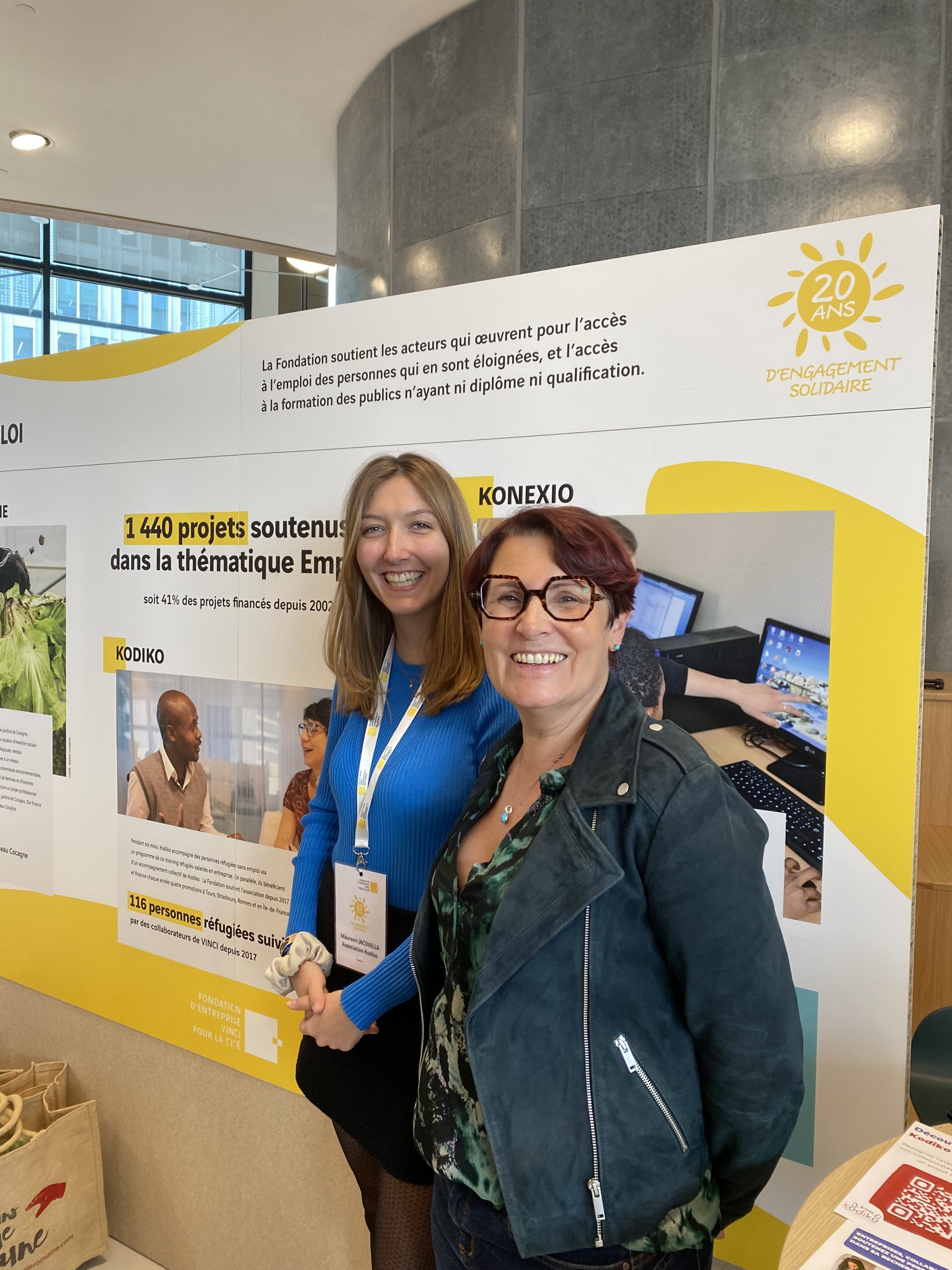 What does your role as mentor involve?
Fadlallah, the young man I supported, had several professional projects in mind when we first met. So I started off by helping him to clarify and define his plan. After this first step, I connected him with professionals in my network. He attended some interviews and ended up securing a professional integration contract in one of our business units. During the 5-month support period, we had a weekly meeting on Teams to catch up and review progress. Due to Covid and the restrictions in place during the winter, we only managed to meet once at my workplace.
Do you have an anecdote you can share? Or a memorable experience?
We laughed a lot when comparing our separate cultures – I am from Austria and Fadlallah is from Sudan. He came to my home for lunch one day and together we prepared an amazing pizza, his favourite dish, with lots of ingredients and topped with a Sudanese omelette.
This personal support project quickly became a family affair since Fadlallah was homeless when we first met, and as a family we found a solution to the problem.
What would you say to a colleague who is not sure about getting involved?
I would tell them to just go for it and not to worry if they're not successful in helping the person to find work immediately. There is no "performance obligation". These five months have been a wonderful personal experience! And when your mentee manages to find employment, it's very rewarding for both parties.
Fadlallah is currently working under a professional integration contract at TIM, a specialist company facilitating integration into the world of work supported by the Fondation VINCI Pour la Cité, VINCI Energies and Vitamine T, a social inclusion organisation. Barbara is still actively involved in corporate support initiatives, particularly through the Bus des Femmes and Force Femmes associations.