Fighting against discrimination in recruitment
To give people in vulnerable circumstances a better chance of success in their recruitment interview and to combat the discrimination they may face long before joining a company: these are the aims of La Cravate Solidaire, a charity that VINCI Energies HR manager Sarah Tholozan decided to support through the Fondation VINCI.
In 2020, Sarah Tholozan, HR manager at VINCI Energies France Facilities Île-de-France Tertiaire, discovered Proxité, a charity supported by the Fondation VINCI that helps young people from priority districts to succeed academically and professionally. She threw herself into the project and worked with Proxité as sponsor to a young high-school student.
Sarah found this adventure tremendously fulfilling and two years later, was on the lookout for a new solidarity project: "Solidarity is a strength for a large group like VINCI and therefore for VINCI Energies. We're fortunate enough to be able to help each other out at work and to support others outside work by giving them some of our time," she says.
In 2022, while talking with Fondation VINCI ambassadors based at her division, she learned about La Cravate Solidaire, a network of nonprofit organisations fighting day-to-day against discrimination, especially in hiring practices. In January 2023, Sarah decided to take part in the first meeting organised by the Fondation VINCI with the charity's volunteers and sponsors to learn more about La Cravate Solidaire's missions and objectives. She explains, "You have to think carefully about your solidarity project, because your commitment needs to relate to something you enjoy and a cause that really speaks to you. After that first meeting with the organisation, I knew straight away that I wanted to help people who have more trouble finding work".
Sarah's mission as a sponsor for the charity began in May 2023, at a coaching day aboard its "Cravate Solidaire Mobile" bus. Alongside another volunteer specialising in technical operations, Sarah conducted mock employment interviews with some of the charity's clients.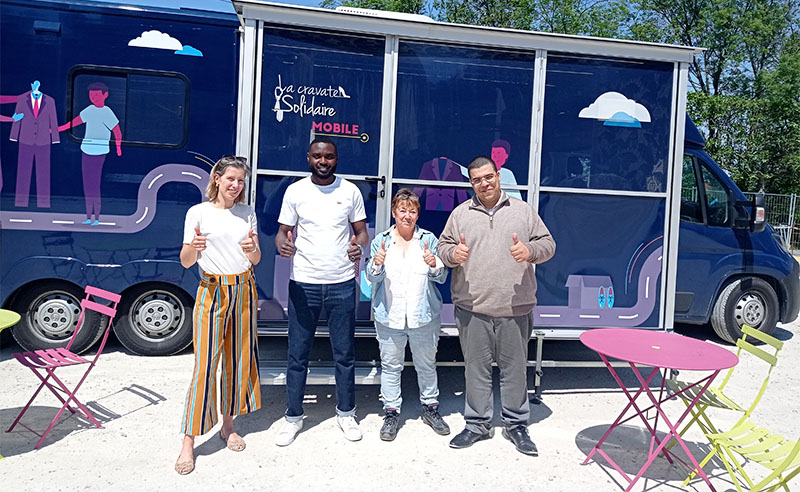 This assignment allowed her to meet people from a variety of backgrounds and to help La Cravate Solidaire's cause by sharing her experience as a human resources professional. This was the first in a long series of sharing and solidarity days with the charity!