"I'm passionate about my new job!": a testimonial by Lydie Fargeau 
After working a variety of traditional 'women's' jobs, Lydie Fargeau joined the team at Omexom Distribution Tours as a machinery operator. Here is more about a women working in the field and thriving in a 'men's' job.
"I started at 16 as an apprentice in a bakery. I thought it was the perfect job for me. But, when I got my diploma, I moved to ready-to-wear clothing. Then I did seasonal jobs, and worked as a saleswoman, cashier, self-service restaurant employee and grape picker – all jobs that women traditionally do."
It was her conversations with a trucker friend that got her thinking about driving heavy vehicles, which she did for 16 years.
"I set out on this adventure without really knowing where I was going. I got my truck driving licence, super-heavy licence and bus licence. I drove a school bus for two years."
A fascinating job, but inconvenient hours
Driving 200 hours a month while raising a daughter born in 2014 made it difficult to combine her trucking job – which she thoroughly enjoyed – with life as a young mother.
"My sister, who was an assistant at Omexom Distribution Tours at the time, told me about a vacancy for a machinery operator in the company. I went in for the interviews and they hired me on the team to operate earthmoving and other machinery."
Finding her place in a man's universe
Dumper trucks, diggers, hydraulic shovels and mini excavators have no secrets for Lydie.
"I do earthworks, operate mini excavators, drive trucks, lay asphalt, load pebbles and sand, dig holes, cover trenches, pull cables and lay ducts, and I'm loving everything I'm learning."
Omexom Distribution Tours promptly offered Lydie a series of professional and skills training courses enabling her to thrive in a team that believes in listening, helping each other out and watching out for one another.
As a woman, I've never felt left out by the men I work with. I'm totally part of the team. They are always there to help me and give me advice. I like the straightforward relationships and this team spirit.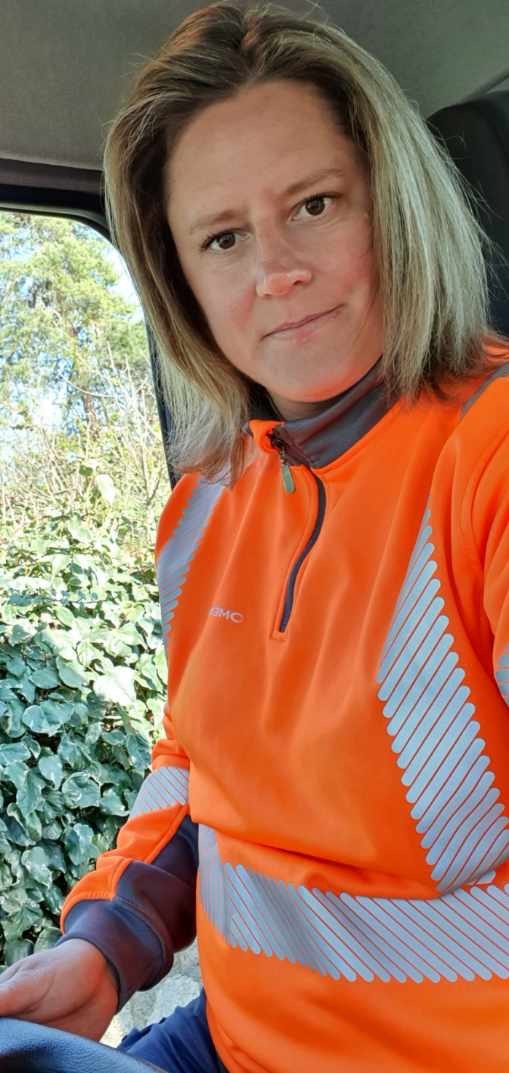 Encouraging more women to work in construction
Lydie feels she is doing a 'man's' job that she can balance with her life outside work. She strongly encourages women who are still unsure about embarking on a career in public works to take the plunge.
There are more and more women driving trucks, at worksites and at gravel pits, women at quarries and women site managers. But there aren't many women operating worksite machinery yet, so come along!