Interview on a charitable initiative to support women  
Two VINCI Energies employees decided to join forces and take concrete action to support women. 
To mark the 20th anniversary of the Fondation VINCI pour la Cité, Barbara Moulin-Rabel (HR & Diversity Development Project Manager) and Selimata Diallo (HR Reporting Analyst) shared their experience working with the non-profit Bus des Femmes. Their story began in lockdown in 2020, when people were cut off from their friends and family. Barbara and Selimata wanted to get involved in charity work to help foster a sense of connectedness despite the physical distancing requirements in place during the pandemic.   
How did you hear about Bus des Femmes? What made you choose to get behind that nonprofit in particular? 
Selimata – We wanted to work together to promote women's rights. When the Fondation VINCI pour la Cité drew my attention to Bus des Femmes, I signed up to become a sponsor and spoke to Barbara about it.  
Barbara – I am particularly concerned by the fact that many women in France are in difficult situations, don't feel in control of their future and have had their lives upended by the pandemic. After talking to Selimata, I wanted to get involved and put my professional skills to good use too.  
Why did we decide to join forces? We may be colleagues with very different backgrounds, but together we form a well-balanced duo passionate about empowering women.



How would you summarise what Bus des Femmes does?   
 S. – It has an outreach bus in operation on the streets and a drop-in centre open in the daytime. The bus team visits sex workers at their place of work to help promote their overall health and distribute safer sex supplies. Barbara and I help out at the drop-in centre. It's a safe space where sex workers can find a sympathetic ear, support and guidance and speak to other people supported by Bus des Femmes.  
What do you do?
B. – Selimata and I run computer workshops for the people supported by the charity. We had to wait until Covid restrictions eased to begin, so we held the first one in March 2022.
S. – And another one recently. The women were happy with how the session went and were really motivated to keep learning. In addition to providing computer workshops, we have made a number of donations to Bus des Femmes, including second-hand IT equipment and office supplies.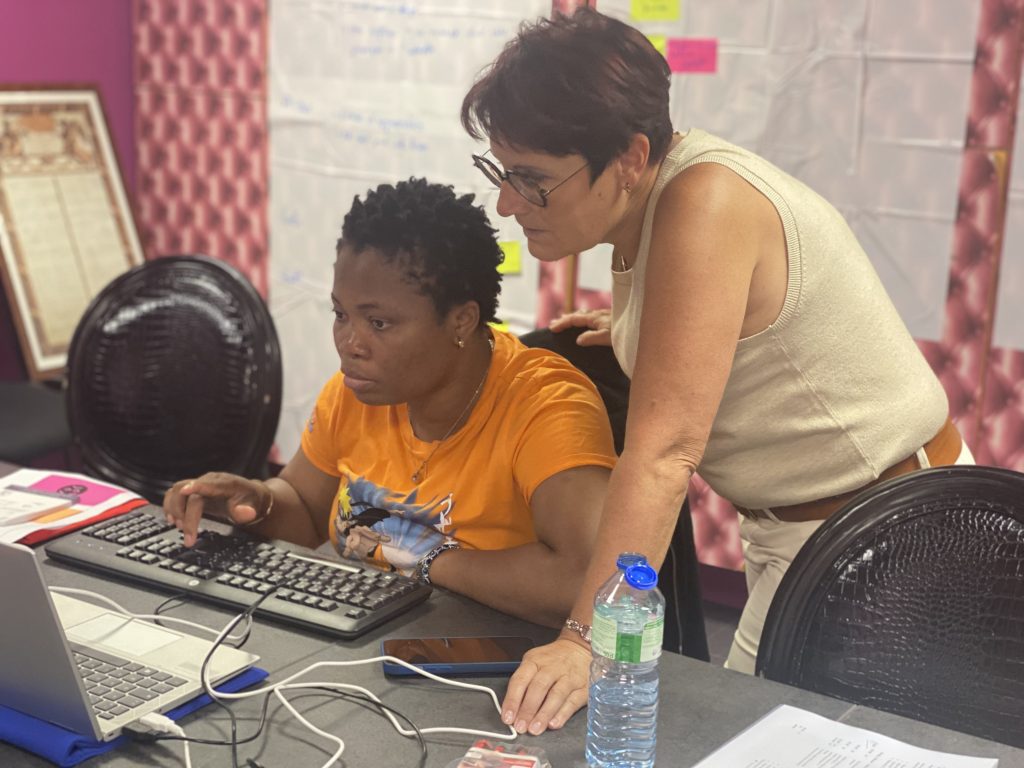 Digital literacy is critical for employment prospects nowadays. How would you rate workshop participants' skills?  
S.- At the start of each workshop, we always set aside some time to assess their IT skills so we can tailor our approach accordingly. We realised that skills that may seem basic to us can prove tricky for people who aren't used to using computers. For instance, one particular participant wasn't able to find certain keys on the keyboard, including "@" and "é".
B. – We even spent half an hour going over how to turn computers on and off, for example. That's when we realised that, above all else, we needed to help them get over their "fear" of computers. Unfortunately, it holds them back sometimes. For instance, it can prevent them from applying for certain jobs. That's when we overhauled our whole approach to organising the workshops. 
Through my work with the charity, I'm helping reduce inequality by creating opportunities for the people I support, boosting their career prospects and fostering a sense of connectedness.



Are there any anecdotes or encounters that stuck with you?   
B. – On our first day at Bus des Femmes, we said we were sponsors and they replied "Sponsors? What's a sponsor? Why are you here?". Basically, we had to explain what we were doing there. They're used to us being around now though! I was also deeply touched by their reaction when we arrived with the IT equipment. I felt like Santa, they were so happy over something so simple! It's a very positive memory. 
What would you say to other employees to encourage them to do charity work? 
S. – Experiences like ours are both personally and professionally rewarding. We work in HR, so we wouldn't have had any experience in running the type of workshops offered by Bus des Femmes. It's been a learning experience for us as well! 
B. – It's a great opportunity provided by VINCI and VINCI Energies. What's more, the Fondation VINCI pour la Cité supports a number of non-profits, so you will definitely find one that resonates with you! 
Head over to the Bus des Femmes website [in French only] for more information. 
Operating out of premises at 58 rue des Amandiers (in the 20th arrondissement) in Paris, Bus des Femmes provides public health outreach services for sex workers. The non-profit's primary objective since 1990 has been to promote the rights of people who are victims of trafficking, sexual exploitation, bonded labour, forced prostitution and slavery-like conditions.